Located in Westcliffe, Colorado, A Painted View Ranch is nestled in one of the state's most beautiful and unspoiled areas, The Wet Mountain Valley. Just three miles west of downtown Westcliffe, the ranch offers visitors a stunning view of the mountains and an authentically western experience.

A Wedding with a View

---
From horse care and riding lessons in our state-of-the-art facilities, to rentals of our arena and event stalls, A Painted View Ranch has a lot to offer year-round. Weddings are popular in the incredibly beautiful setting of Westcliffe. Brides can accommodate up to 500 guests, sharing an endless view of the Sangre de Cristo Mountains and Wet Mountain Valley.
Getting married? Want to know more about having your wedding at A Painted View Ranch?

A Place Unlike Any Other

---
For those looking to get away, A Painted View offers rental opportunities in our vacation ranch house that is a part of the Dark Skies Community.

You can bring your own equipment to see the clear night sky like you've never seen it before! And don't forget about our chuckwagon dinners! From the inside of an authentic chuckwagon, western dinners are prepared for up to 100 seated guests in our beautiful cantina.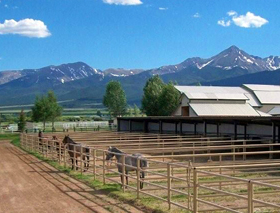 Want to know more about our Vacation Ranch House?
Curious about having your event in our cantina?

Galleries

---